Description
Kostka E-Hill Folding Electric Scooter
No cables : This unique system is based on the All-in-one solution, which means that all equipment (including sensors and batteries) is placed in the compact e-hub
You can fold the kick scooter easily in two steps within a second. The FOLD system provides the handlebars folding and the SPIN system ensures that the frame can be rotated around its axis. You will get a compact package which you can carry while travelling by public transport or car and which you can deposit where it is necessary. Our unique folding systems will help you with this!
You can connect to your mobile device via Bluetooth and check your speed, your location or distance travelled. The whole setting is done through the mobile app – there you can choose various parameters such as:
– Boost (the kick-assist intensity),
– Assistance (the value of the distance over which the speed achieved during kick-off will be maintained – up to 1km),
– Braking (the braking intensity using the BT controller; only active with the BT controller – not included!),
– High speed braking (the intensity of the regenerative braking – active from 30km/h).
Three modes, many possibilities
There is a lot of options you can set up. And then you just kick off! You can set up parameters using a mobile app which adapt footbike's behaviour to your needs.
---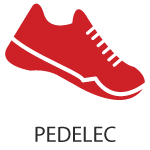 The PEDELEC mode will enhance the needed pushing power, so you can move very easily. If your speed drops to 6 km/h, the footbike will maintain it. Since it is speed of an agile person, you can easily move among other people. The speed support works up to 25 km/h.
---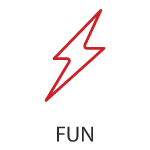 The FUN mode adds another function – it will maintain the last reached speed for the specific duration you set up. It includes the push-enhancement function, just as in the PEDELEC mode. Both modes include energy recovery. The maximal speed of the FUN mode is 20 km/h.
---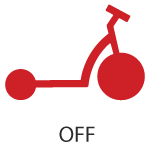 If you want to get a little soaked and ride the footbike the way it has to be – without help. Simply set the mode to OFF – standard footbike mode.
Brakes Shimano 4000
Hubs KOSTKA HK 6524 RS
Tires Schwalbe Marathon Racer
Rims Double wall – DRAGON
Stem KOSTKA FL 2822 S
Handlebars KOSTKA FBH 620-240 St
Front fork Rigid 20″ – 65 mm
Bearings (Hubs) Industrial
Headset A-Head
Handlebar Grips Hardened foam – locking
Spokes Stainless steel
Height 1020 mm
Length 1470 mm
Weight 12,8 kg
Loading capacity of frame 150 kg
Front wheel size 20″
Rear wheel size 16″
Clearance Height of Footboard 50 mm
Footboard Length 420 mm
Wheelbase 1040 mm
Handlebar width 620 mm